Aura frames are a great way to share and display your memories with loved ones. In most cases, it is required to set up a free, and secure, Aura Frames account in order to set up and manage a frame and to benefit from all the many features.
1) When do I need an account
An Aura Account is required in order to:
Use the Aura Frames app or Web Uploader

Set up a new frame (in combination with the Aura Frames app)

Control your frame(s) and settings
You will not require an account if:
Somebody with an account set it up in your home and you only want to use the basic controls via the Touch Bar.

You want to buy it as a gift for somebody special
2) How to set up your account
You can easily set up your account with an email address and a password of your choice when starting the Aura Frames app (auraframes.com/app) or using the Web uploader (app.auraframes.com) for the first time. Please ensure you verify the confirmation email that we are sending to you as part of the account setup.

3) How to change an account's password
If you require a password reset, you can do this using the Aura App or the Web Uploader and requesting a password reset email. Please click here to view the step by steps instructions.
4) How to change an account's email address
Once you have logged into the Aura Frames app, you can tap on the "A" icon in the top left corner: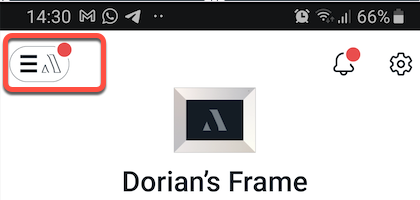 Next, select the "view account" option underneath your name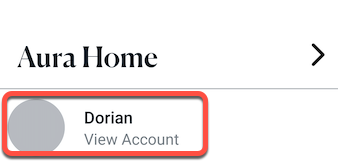 Finally, tap on the pencil icon next to your current email address to change it. Important: you will need access to the new email address in order to control this account moving forward.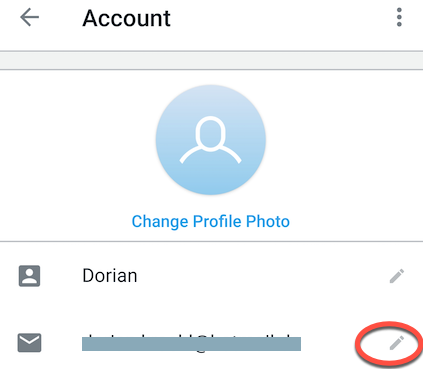 5) Logging out of your Account
If you want to log out of your account, please read the following FAQ to follow the steps: Logging out of the Aura app
6) Deleting your Aura Account
If you no longer wish to use your Aura frame or if you want to delete your Aura account for any other reason, please follow the steps in this FAQ: Deleting your Aura account
IMPORTANT: once you delete your account, any photos and videos that you had uploaded to any Aura frame will be permanently removed from the frame(s) and cannot be restored.