Aura takes customer privacy seriously and we only collect data that is necessary in order to provide our photo sharing services (= Functionality) and to improve our customers' experience (= Analytics).
Aura will never sell your data.
This FAQ will explain the different permissions that the app may require to offer the full functionality. If you have any remaining concerns or questions, you can visit our full Privacy Policy or contact our Customer Care team directly.
1) Agreeing to Aura's Privacy Policy
As part of the app installation, we ask you to read and to agree to our Privacy Policy. You can find a concise summary in this article or the full version on https://auraframes.com/privacy
Note: Your photos, videos and photo library are never shared with anyone else or uploaded, except those individual photos that you add to a frame which are visible to all other invited members of the frame.
2) Photo Access
iOS App:
You can install and access the app without granting it any access rights to your photos or videos. This will still allow you to set up and control the frame via the app, but the app won't be able to upload any photos from your device photo library unless you grant it the required photo permissions.
The first time you use the Aura app's "add photos" option, you will be offered the following 3 options: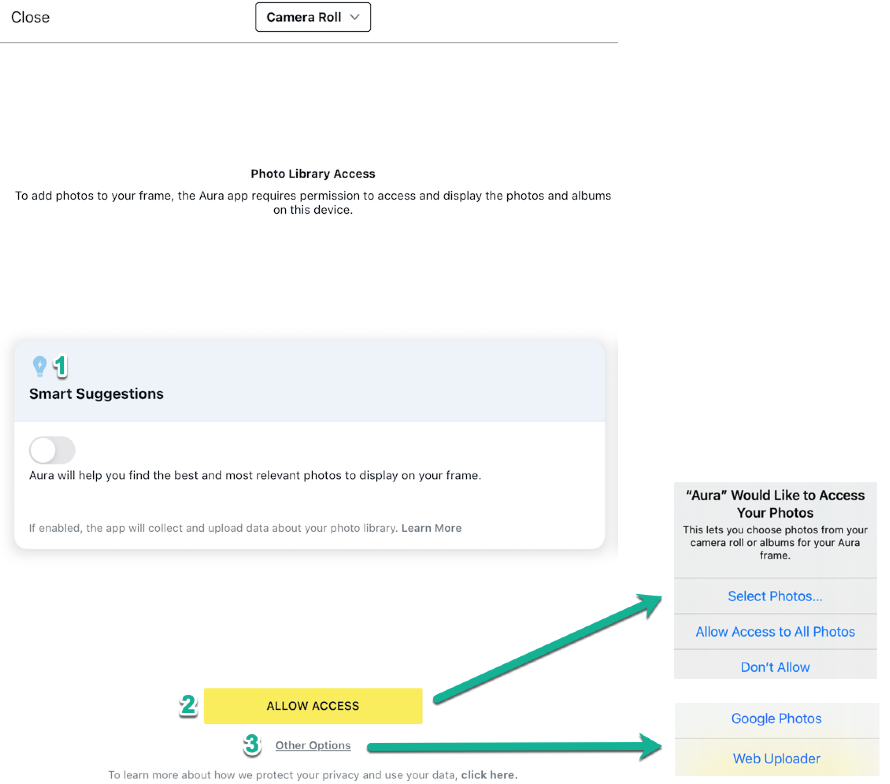 Smart Suggestions: Share photo metadata (optional). Explained further below.


Allow Access: the app will offer you the following photo permission options:


Select Photos:


Pre-select the photos and videos in your device library that the app can see. Note: this means that the Aura app will never see any new videos, photos or albums unless you have manually pre-selected them first.


Note: limiting the app's photo access permissions will stop your Aura App from seeing - and syncing with - iCloud shared albums.

Access to All Photos:


The easiest option and recommended by Aura. At any time, you can simply use the Aura app's "Add Photos" option to see and select any of your device photos and albums. Your photo library still remains private since neither Aura nor any invited frame members can see it.



Don't Allow:


The Aura app cannot see or upload any photos or videos from your device library. You will have to use "Other Options" to upload them to your frame.



Other Options: Upload photos via the Google Photos integration or Aura's Web Uploader

You can change your Aura app photo permissions at any time by accessing your iOS device's Settings menu (not the app), tapping on the Aura app and changing the "Photos" permissions: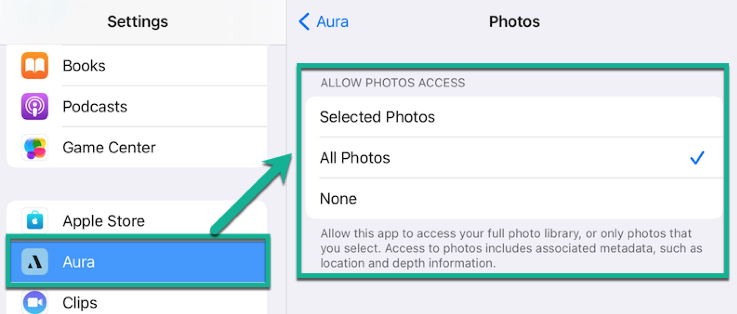 Android App:
You can install and access the app without granting it any access rights to your photos. This will still allow you to set up and control the frame via the app. If you want to add photos or videos from your device photo library, however, the app will request permission to access your photo library and to display your photos and videos. This is necessary so you can see and select the files that you want to send to your frame.
3) Optional: Smart Suggestions
By default, the Aura app will offer 'Smart Suggestions' to help you find the best and most relevant photos to display on your frame. In order to offer these recommendations, the Aura app will access your device's photo library and collect metadata, including facial recognition data, and upload this data to the cloud. This metadata is not shared or sold, and your photos themselves will never be uploaded without your permissions. If you turn off Smart Suggestions, Aura will still have access to metadata about the photos you have shared, but Aura will not upload data about photos you have not shared with your frame(s).


How to turn off Smart Suggestions:
If you haven't toggled the 'Smart Suggestions' switch to OFF during the initial setup, you can do this at any time by following these steps:
Tap on the "A" icon on your Aura Frames app homescreen


Tap on "View Account"


Select "Smart Suggestions" and turn it to OFF


4) Google Photos Integration
This FAQ explains our Google Photos integration that allows you to easily send your photos from Google Photos to your frame.
In order to use this integration, users will have to grant the Aura app access to their Google Photos account. However, we will only save those photos to our secure servers that you are selecting for your frame.
5) Storage
Any photos or videos that you upload to your frame - via a smart device, the web uploader or Google Photos - are stored securely on your device, on Aura's cloud servers and on your Aura frame. They are never shared with any third parties, or with other Aura users without your permission.
Aura uploads and stores your photos and videos in a secure cloud database, protected and powered by Amazon Web Services (AWS) with industry standard two-factor authentication.
In addition, Aura uses the AES-256 advanced encryption industry standard to protect your files during transfer to the server. Your photos and videos will also be stored locally on your frame, and your frame will sync with our cloud database regularly to ensure photos you add or remove from your frame in the app are removed or added to the frame. If you would like to delete your Aura account and data, please contact Aura Customer Care.
Note: although any uploaded photos and videos are stored in our secure cloud database, we recommend that you also back up your photos separately. Aura does not specifically offer a backup service so we can't accept any responsibility for lost photos.
6) Summary: permissions and reasons we may ask for
In addition to the above described photo and video access permissions (which are also listed in this table), the Aura app may use the following permissions in certain situations:
| | |
| --- | --- |
| PERMISSION | CONTEXT |
| Bluetooth | Required for the initial frame setup (to establish the WiFi connection). |
| Location | Android requires this app permission in order to offer Bluetooth support. |
| Camera | Used for adding your profile photos and for scanning the Gift Code. |
| Photo Library | As described in this article. |
| Notifications | Used for the 'reactions' and 'comment' feature, Family Sharing, the app's 'Activity' stream and Smart Suggestions. |
| Contacts | Used for Family Sharing (we will never upload all your contacts to our servers). |