Managing multiple Aura frames via the free Aura App is simple and allows you to control or contribute to a variety of different frames, be it as a frame owner or a frame contributor. Once set up, you can easily navigate between each frame to add or remove photos, invite family members, or change the photo displayed on the frame.
1) How many frames can I add to my account/app?
There is no limit to how many frames you can own or contribute to. All your frames are displayed in your Aura App and you can scroll down to add new frames via the "+ NEW FRAME" icon: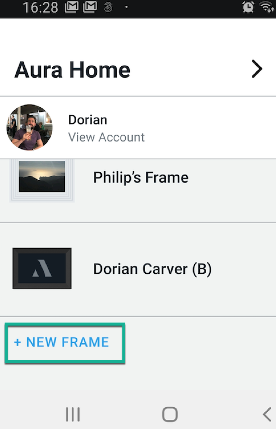 Note: to avoid confusion, you should consider giving your frames clear names (e.g. "Kitchen Frame" etc)
2) Can I transfer photos from one frame to another?
While you cannot select and transfer individual photos from the app's 'Photos' section to a different frame, you can transfer entire "activity updates" from within the 'Activity Feed' section. Basically, any of your previous photo updates in the activity feed - and the linked photos - can be transferred to a different frame.
Note: photo updates from frame contributors cannot be copied with this feature, since those photos belong to the contributors.
Go to the selected frame's ACTIVITY screen (1)


Scroll down and select an activity update that you would like to transfer to a different frame that you are invited to.



Click on the "

. . ." button next to the photos (2)


You can now copy all photos that had been part of this 'activity update' and send them to another frame:
3) Can I upload photos to multiple frames at the same time?
Yes, if you would like to send your photos to multiple frames at the same time you can do this via the Aura App. Please have a look at this step-by-step guide that includes helpful screenshots.