Your favourite memories come to life when Live Photos (Apple iOS only) are displayed on your Aura Frame. Live Photos record on your iOS device (iPhone 6 and newer) what happens 1.5 seconds before and after you take a picture. What you get is more than just a great photo, it tells a story through movement.
Taking a Live Photo on your iOS device
Using an iPhone 6 or newer you can take a Live Photo the same way as you'd take a normal photo:
Open the iPhone's Camera App

Make sure that your Camera is set to Photo mode

Hold your iPhone still

Tap the Live Photos icon at the top of the screen.



Turning Live Photos on - or off - on your Aura frame
You can decide whether you want Live Photos to automatically play as a mini-video or to be displayed as a still image on your frame. To do so:
select your frame in the Aura App and tap on the settings icon

turn "Autoplay Videos" to ON or OFF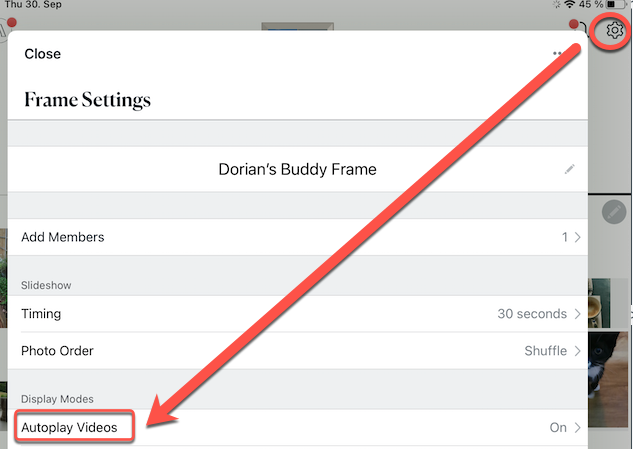 NOTE: If you turn off "Autoplay Videos" your frame will also stop displaying uploaded videos. Instead, they will now also be displayed as still images.
Can I view Live Photos on an Android device?
Unfortunately, we aren't able to integrate Android's Motion Photos with the Aura App in order for them to display on the frame. There is no standard across Android phones when it comes to their version of moving photos which makes integrating the api very difficult.

If the information in this article hasn't answered your question, please submit a detailed support request and Aura's Customer Care Team will help.