This article explains how you can use Aura's new Web Uploader to upload photos from your computer or laptop to a frame that you either own or that you have been invited to.
NOTE: The Web Uploader is NOT designed to replace the Aura app,
but to complement it. We therefore advise you to upload photos in small batches when using the Web Uploader. The Aura app is required to:
Upload videos

Change the frame settings

Upload entire albums so they are synced with your frame
Adding Photos via the Web Uploader
Please visit http://app.auraframes.com/ and enter your Aura Account email address and password to log into your account. If you do not have an account yet, you can click on "register here" to set it up: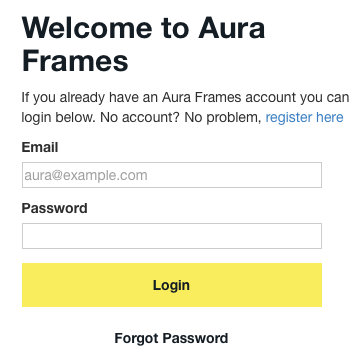 You will now be able to access any frames that you own - or have been invited to - and add new photos from your desktop / computer. While you can select all photos from within a photo album, you will need the Aura app in order to sync the entire photo album with your frame (= automatically displaying any new photos that are added to the album).