The Aura Frames app offers the best and most convenient photo upload experience as explained in this article: Adding Photos to your Frame.
However, we also offer a direct email-to-frame upload option where any invited frame members can send up to 50 photos to a frame's unique email address.
Please note:
due to the size of videos and Apps Live Photos, this upload option is limited to still photos, but you can upload your videos via the Aura app itself.



if you want to email photos to multiple frames, please do so in separate emails. This feature cannot send photos to multiple frame email addresses at the same time.

Where do I find the frame's email address?
The unique frame email address can be found in the iOS and Android Aura app. Simply open the app, select the frame in question and access the "Settings" screen in the top right corner. The "Email to frame" option will be listed at the bottom.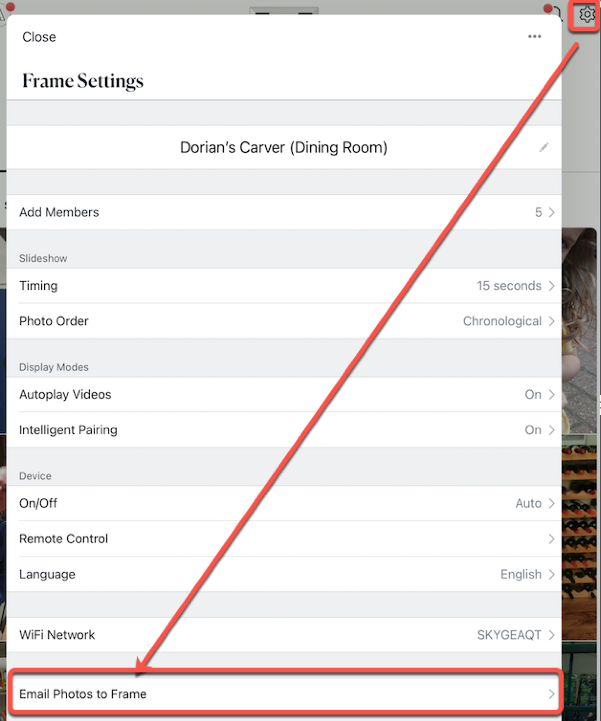 The app will now show you the unique email address and also allow you to copy it: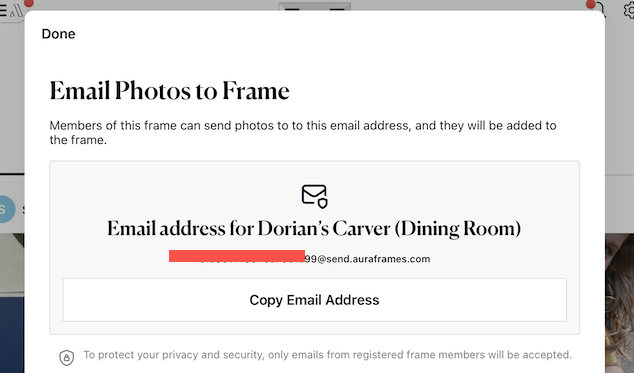 Who can send photos to a frame's email address?
You must be a registered frame contributor and you must send the email from the address associated with your Aura account. This makes our feature more secure, as there is no risk of your frame's email address being abused or accidentally used by someone else.
It is important that you send your photos from the same email address that your Aura account is registered to. Otherwise the photos will get rejected.
Photos sent by persons who are not members of the frames will be rejected and they'll receive a notice that informs them that they don't have frame access rights.
How can I send a photo via email?
Once you have obtained the email address, you can simply compose a new email and attach as many photos as your email provider will support (usually 5-10 MB of photos). Shortly after your email was sent, the photos will be posted to the frame.
Please do not send more than 50 images per email but instead use the Aura Frames app for more convenient bulk uploads or send multiple emails.
We currently support the following formats:
We don't support:
Videos (please use the Aura App to upload them to your frame)

Email text or subject lines: text will not appear on the frame

Apple Live Photos
Can I remove photos that I had send via email?
It is not possible to remove photos by email. If you want to remove previously sent photos, please use the Aura App to connect to the frame and to remove them.