How the upload process works:
Using the Aura app, you can easily - and remotely - upload videos, photos, and entire albums to your frame(s). Since Aura wants to create wonderful experiences, we carefully designed the upload experience to make it as straightforward as possible.
However, although the video and photo upload process appears simplistic, it is actually based on a very complex chain of events, involving a variety of different tools that need to communicate with each other to get your content to the frame:
Aura Frames App

WiFi router

The photos storage location (Smart Device vs iCloud vs Google Photos)

Smart device

Aura Cloud Server

Aura Frame
The basic process starts with our Aura App getting access to the photo/video location, so it can make them visible - and selectable - in the app. Once a user has marked them for upload, they are sent to our secure cloud server and from there to the frame and any other invited frame members' Aura app.
Important:
Although the uploader will
immediately
see the selected photos and videos
in their Aura app
, it can take hours or days (depending on many variables) until they actually reach our cloud server. Until that point, the photo(s) will not show up on the frame or on another frame member's Aura app and you may see the "this photo has not yet been uploaded" message.
The app will show you how many photos have successfully completed the upload to our cloud server and the subsequent download to your physical Aura Frame. Those should now be visible on your frame and appear in other frame member's Aura apps: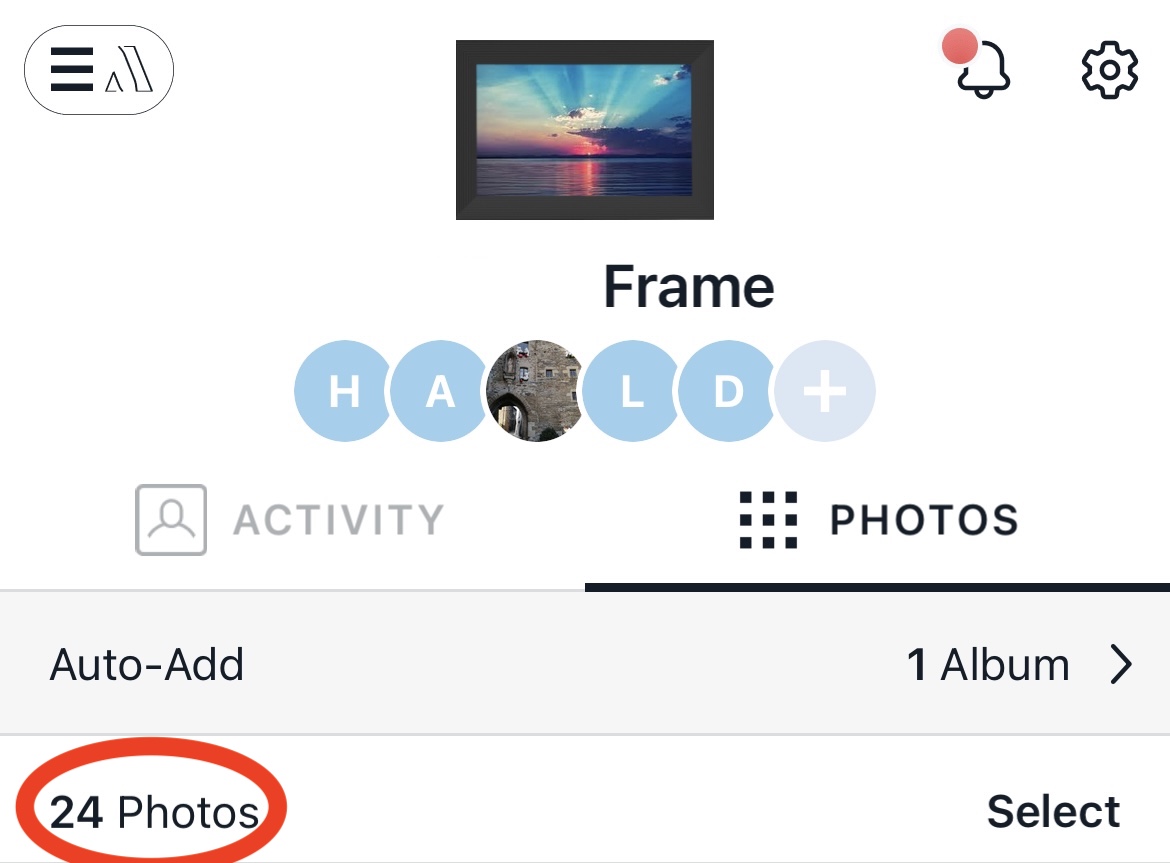 Factors that affect the upload speed:
Generally, there is no "average" upload speed since it depends on many variables:
Photo location (Google Photos offers the fastest uploads, iCloud is the slowest*)

The uploader's WiFi strength

Number and size of uploaded content (videos are 5-10x bigger and take longer)

Whether the Aura app is open or running in the background

The number of apps running on the device at the same time (in 'competition')

Whether or not the phone is connected to power (= some devices slow down any upload activity to protect the battery)

Whether or not the photo was added to an "auto-added" / synced album
(*Apple throttles iCloud downloads in certain situations to preserve Apple device's battery life. If you select "Optimize iPhone Storage" in your iCloud Photos (Settings > Apple ID > iCloud > Photos > Optimize iPhone Storage), it can further slow down the upload since the full-quality photos are not stored on your phone but on the iCloud server. Apple will therefore first download the photos to your device before they are uploaded to our Aura cloud server.)
To maximise the upload speed please follow these guidelines:
Keep your phone connected to the WiFi (not to 4G or a hotspot)

Connect your phone to power to avoid it throttling app activity when on battery

Leave the app open so it's prioritized over competing apps in the background

Remember: photos and videos visible in your app may not yet have reached our cloud server or your Aura frame.
How to check the upload status:
Tap on the "A" icon in the top left corner of your Aura app

The app will show you the pending uploads



Tap on "View account" underneath your name

Select "Upload Status"


You can now see which photos/videos are pending and which are currently being uploaded. If you feel that some photos are not progressing after 24 hours, please tap on the "Retry" bar
Please note: Google Photos uploads are server-to-server transfers, and will not show up in the app upload status.


For iOS users the Aura app offers certain warning messages in the "Upload Status":
Device

too

warm: Wait for your device to cool down and close other active apps to reduce hardware burden.
Low Memory: This refers to the device's memory (not actual storage), please close any active apps.
Low Power Mode: iPhone/iPad below 20% battery and in "Low power mode". Please recharge your device.
If you have followed these steps and you feel that uploaded photos or videos don't reach your frame, please contact Aura's Customer Care team with a detailed explanation and your frame's serial number.