The Aura App allows you to upload albums from your devices to your frame, thus making it easy to select the contents of your album versus selecting each photo individually. It is important to note that albums are not playlists, and do not determine the order in which content is displayed on a frame.
The photos you add to your Aura Frame are uploaded and stored in the Aura Cloud, and they are downloaded to play on your Aura Frame. You can set your frame slideshow to play in either Shuffle or Chronological order.
How do I add an album to my frame?
When you select an entire album to be added to your Aura frame, you will be prompted with a message asking if you want to "Enable Auto-Add?"
Auto-Add
Auto-Add is beneficial for albums that are continually updated, such as shared family albums. If you have a complete album, such as a past holiday or event, the only advantage of Enabling Auto-Add is the ability to remove the photos from the entire album from the frame. Enabling Auto-add for an album means Aura will continue to monitor and automatically add new photos from this album to your frame. Some low-quality photos may be filtered out.
Auto-Add is a unique feature of your Aura frame that makes it easy to keep your frame updated.
Just pick any album from your photo library, tap "Select All" and then turn on "Auto-Add". Aura will add all of the photos in that album and will continually watch for new ones and add those, too. Videos are not currently supported. Aura may skip some of the photos, especially those that are too grainy or blurry to look great on your frame.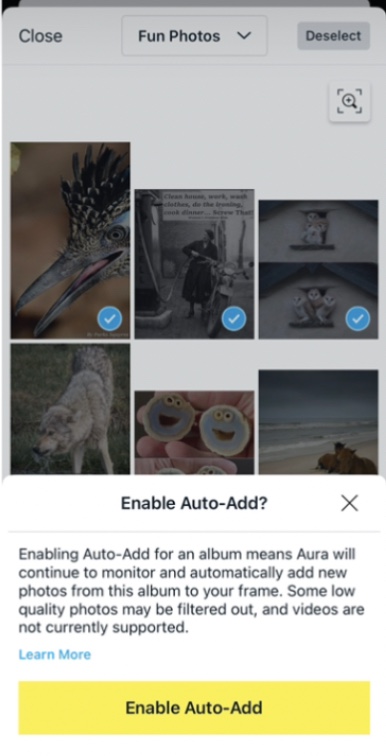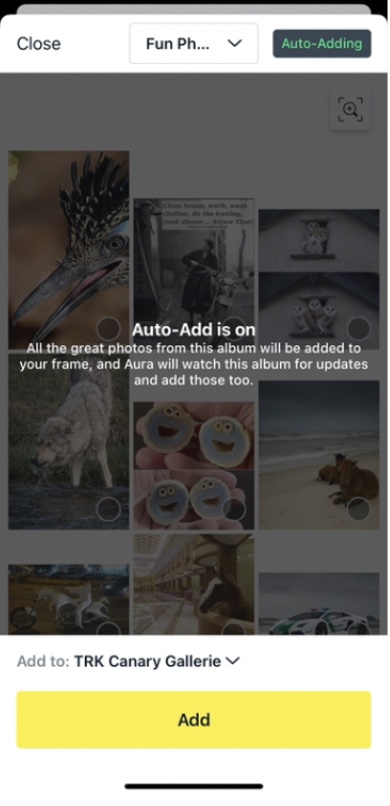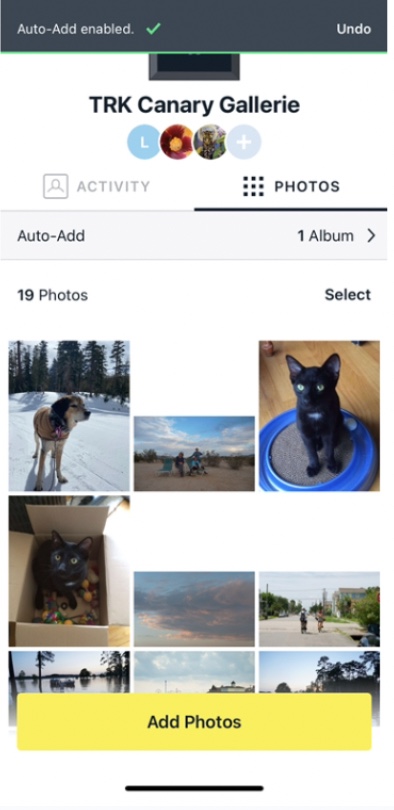 Tip: This also works with shared albums from iCloud or Google Photos, so you can easily update your frame with photos from your whole family!

Note: Uploading Albums from your computer is not possible, as explained in this article.
There are slight differences in the Aura App between Google Photos and Apple Photos:
For example, there is no feature for Auto-Add using a Google "Favourites" album. All other Google albums are supported.

If you delete photos from an Apple Auto-Add album within the Apple Photos app, the photos will automatically be

removed

from the Aura frame.
If you delete photos from a Google Auto-Add album, the photo

will remain

on your Aura Frame. If you want the Google photo deleted from your Aura Frame, refer to this FAQ: How can I remove Photos & Videos from my Frame? For more information on Google Photos and Aura, visit: Using Google Photos with Aura
If you add an album without turning on Auto-Add, there is no easy way to remove the album photos in Aura. Only an Auto-Added album can be removed by selecting the album, as non-Auto-Added albums are loaded into your general photo collection and shuffled with your other content as individual photos. Auto-Add is the only instance in which photos are stored separately in the Aura App. This does not mean that Auto-Add can be used as a separate playlist.
Select-all
The "Select All" function allows you to add multiple photos and videos to your frame simultaneously. Not enabling "Auto-Add" ensures there is no filtering of your photos. The photos selected will appear in the PHOTOs tab of the Aura App as if you have manually added each photo and video.
Open the Aura App, tap on the "A" setting to select your frame, and scroll down to tap on the yellow "Add Photos" button:





Tap on the "Camera Roll" (iOS) or "Photos" (Android) icon on the top to change from Individual Photo to Album selection view.




Your Aura app will now display all existing albums on your smart device (unless you limited the Aura iOS app permissions):





Select an album of your choice and tap "Select All" to select all the photos that are currently in that album.






You will now be offered to enable "Auto-Add" which will effectively sync this album with your frame:





Select if you want to add (or sync) this album and confirm by tapping on the yellow "Add Album" button.


If you enabled Auto-Add, your synced album will now be shown in the top section of your frame's photo section:


Important:
It may take a while until photos/videos that are already displayed in your Aura app will also show up on your frame. Please read this important FAQ.

The Activity tab may also be inconsistent for Auto-Add albums, we are working to improve this feature.
How can I remove an 'Auto-Added' (= synced) Album from a frame?
At any time, you can disable the "Auto-Add" feature to un-sync a particular album from your frame. The app will then offer you to:
Un-sync the album but keep already uploaded media on your app/frame





Un-sync the album and also delete the media from your app/frame (but not from your device's library)
Here is how you can disable 'Auto-Add' for individual albums:
Open the Aura app and select the frame that you want to un-synch an album from.


In the frame view, tap on the album that you want to un-sync.


Click on the three dots in the top right corner:





Disable Auto-Add and choose whether you want to remove or keep already uploaded photos from that album:





If the information in this article hasn't helped you resolve your problem, please submit a detailed support request and Aura's Customer Care Team will help.