Aura offers you a variety of different ways to upload photos from a computer to your frame:
Using the Web Uploader

Using the Google Photos integration

Using Apple iCloud
We don't offer NAS, Onedrive, Shutterfly, or Google Drive integrations.
Currently, videos cannot be uploaded via the Web Uploader or Google Photos. Please use the Aura Frames app for video uploads.
1) Adding Photos via the Web Uploader
You can now use Aura's new Web Uploader to upload photos from your computer to a frame that you either own or that you have been invited to.
NOTE: The Web Uploader is NOT designed to replace the Aura app,
but to complement it. The Aura app is required to:
Change the frame settings (troubleshooting)

Upload entire albums/sync albums with your frame

View all photos/videos added to the frame(s)
Please visit http://app.auraframes.com/ and enter your Aura Account email address and password to log into your account. If you do not have an account yet, you can click on "register here" to set it up: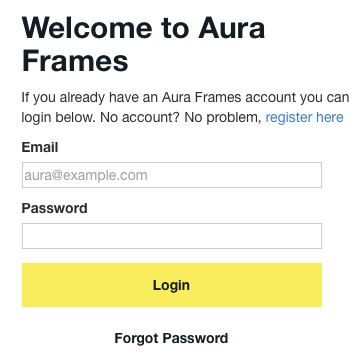 You will now be able to access any frames that you own - or have been invited to - and add new photos from your desktop/computer. While you can select all photos from within a photo album, you will need the Aura app in order to sync the entire photo album with your frame (= automatically displaying any new photos that are added to the album).
Note: the web uploader has an image size limit of 9.5MB. Please resize any larger images in order to upload them to your frame.

2) Using Google Photos
The Google Photos integration is another great tool if you're looking to transfer photos (up to 50 megapixels) from a desktop computer to an Aura frame. The Google Photos service offers unlimited photo cloud storage and a desktop uploader that allows you to easily drag and drop photos into the application which will then sync with the Aura app.
How to link the Aura app with your Google Photos account:
Open the Aura app and click on the "A' icon to view your home screen.


Select the frame that you would like to link to your Google Photos account.


Tap "Add Photos"

to get directed to the photo selector page.




On here, tap on the top "Camera Roll" (iOS) or "Photos" button and scroll down to the bottom of the page where it says "Connected Add Google Photos".


You'll be prompted to enter your Gmail address and password.



Once you have granted access, all of your albums and photos saved with Google (including those from your computer) will be displayed in the Aura app.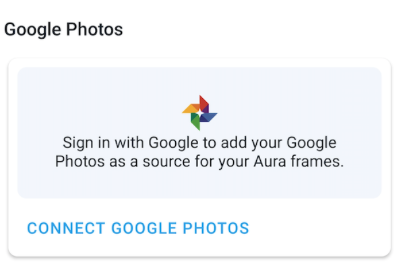 You can now use the Aura app's "add photos" feature to select "Google Photos" and send individual photos - or entire albums - to your frame/s. For more information please look at this dedicated Google Photos article.
3) Using Apple's iCloud (iPhone / iPad required)
Similar to Google Photos, Apple's free iCloud service allows your different devices (phone, tablet, desktop computer) to upload selected photos to Apple's secure cloud storage.
Once you activate "Photo Syncing" in your iPhone or iPad iCloud settings, you will see all your photos - including those on your computer - in your photo library. Using the Aura app's "Add photos" option, you will now be able to see and select the synced photos from your computer to send them to your frame(s).