Using the Aura app, you can upload videos, photos, and entire albums to your frame. We carefully designed the upload experience to make it as straightforward as possible.
However, although the photo or video upload process appears simplistic, it is actually based on a very complex chain of events, involving your home WiFi, Aura App, smart device, file storage platform (e.g. iCloud or Google Photos), Aura's own cloud servers, internal quality filters and the frame itself. Finally, there may be other people that you invited to the frame who can edit or influence the uploads.
Since this occasionally causes some confusion, we have created this article to answer the most common questions that our Customer Care team receives.
1) My phone doesn't show/allow me to select certain photos or videos
If the Aura app doesn't show or doesn't allow you to select some of your smart device's videos, photos, or albums, this is usually due to one of the following reasons:
The photos are not compatible with the Aura app (we support jpeg, jp2, tiff,png, BMP, heic file format, IMPORTANT: .gif format is supported BUT NOT the animated .gif).


iOS devices: You have limited the Aura app's photo access permissions so it is unable to see all your photos.

Visit this FAQ

to change the settings.


You are trying to upload an entire album or videos via Aura's web uploader (

https://app.auraframes.com/

) which is not possible

as explained in this FAQ

.


2) My photos or videos don't upload/take too long to upload
It is normal that your selected photos and videos won't immediately show up on your frame since they first need to upload to our secure cloud server. This can take hours or even days and depends on the following variables:
Photo / Video location (Google Photos offers the fastest uploads, iCloud is the slowest*)

The uploader's home WiFi strength

Number and size of uploaded photos or videos (videos take longer!)

Whether the Aura app is open or running in the background

The number of apps that are running on the device at the same time (in 'competition')


Whether or not the phone is connected to power (= some devices slow down upload activity to protect the battery)
(*Apple throttles iCloud downloads in certain situations to preserve Apple device's battery life. If you select "Optimize iPhone Storage" in your iCloud Photos, it can further slow down the upload since the full-quality photos or videos are not stored on your phone but on the iCloud server. Apple will therefore first download the photos or videos to your device and then send them to our Aura server.)
In order to maximize the upload speed please ensure you are following these guidelines:
Upload your photos in batches of up to 100 images

Keep your phone connected to the WiFi (not 4G or hotspot)

Connect your phone to power. Many devices throttle app activity when running on battery

Leave the app open so it's prioritized over competing apps that run in the background

Remember: images or videos visible in your app may not yet have reached our server (= the frame)
If the missing photos were part of an entire album that you had "auto-added" to the Aura app, they may have been 'hidden' if they were identified as duplicates or low-quality images, or when they displayed nudity. To check this, open the album on your Aura app and check the 'hidden' section.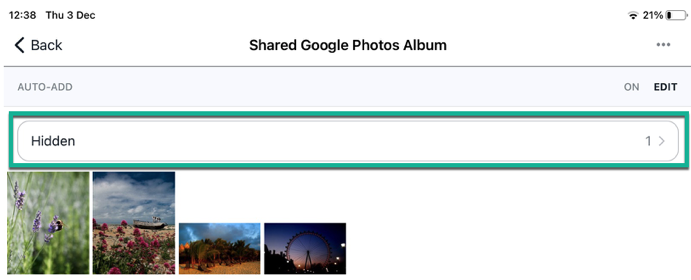 Finally, if you set your photo order to "Chronological", new photos and videos will not be displayed immediately but instead placed into the correct spot in the slideshow so they will come up at the appropriate time. If you already have a large number of photos and videos on the frame, this could explain the perceived 'delay'.
3) Photos or videos have disappeared from my frame
If you have seen a photo or video on the frame and it has disappeared, this is usually because another frame member removed it. Unfortunately, you cannot restore removed photos or videos so you would have to upload them again from where it was originally hosted.
If you can still see that photo or video in your app, however, please use the Show Now button to send it back to your frame:
If the information in this article hasn't helped you resolve your problem, please submit a detailed support request and Aura's Customer Care Team will help.