Aura digital frames are beautifully designed WiFi frames that connect people around the world through a brilliant photo-sharing experience enabled by Aura's cloud servers.
This article explains all the features but you might also find the following FAQs interesting:
Download the free Aura Frames app and easily sync your camera roll, iCloud, and Google Photos. Set up the frame on your WiFi, and add selected photos. With unlimited storage, you can invite your entire family and friends to share their photos and never worry about running out of space.
Invite friends and family to safely share their photos in your home without the need to post on social media. When you invite others to join your frame, they also download the Aura frames app and select photos to share on your frame. Since photos are sent from your device to Aura's safe cloud servers and then down to the shared frame which is always connected to the internet, you can send photos to any frame, even if you are on a different network
Detailed overview of the App
Note: if your Aura app looks different from the following screenshots, please visit your App or Google Store to download the latest app version
(e.g. 4.4.x-xxxx).
HOME SCREEN (Aura Home)
The home screen can be accessed by clicking on the "A" symbol in the top left corner:

You'll find your account-level settings as well as a list of all the Aura Frames you contribute to as a member.
1) View Account (= Account Settings)
Make changes to your Aura account, including changing your profile pic, name, or email address. Turn "Smart Suggestions" on or off. Change your email address, and view the Aura app version.
2) Digital Frames
Lists all the frames that you own or contribute to. Click on a frame to get directed to the frame menu.
3) +New Frame
Add a new frame to your Aura Account or prepare it as a gift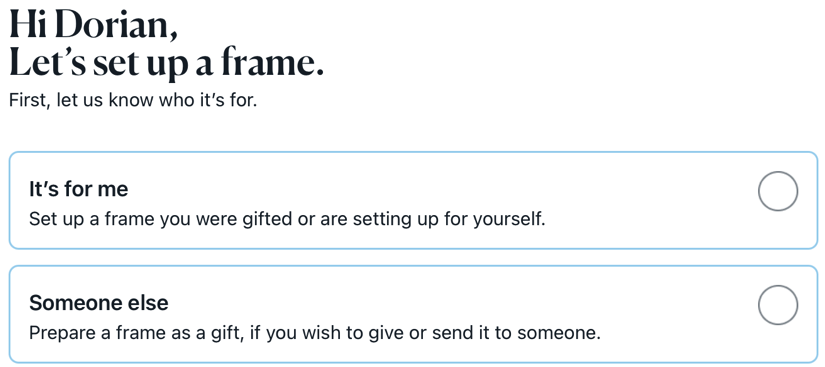 Related articles:
FRAME MENU
Once you have selected an individual frame from your home screen, you can now use this app section to control the frame and monitor its activity.
Note: To change the frame, click on the "A" symbol in the top left corner.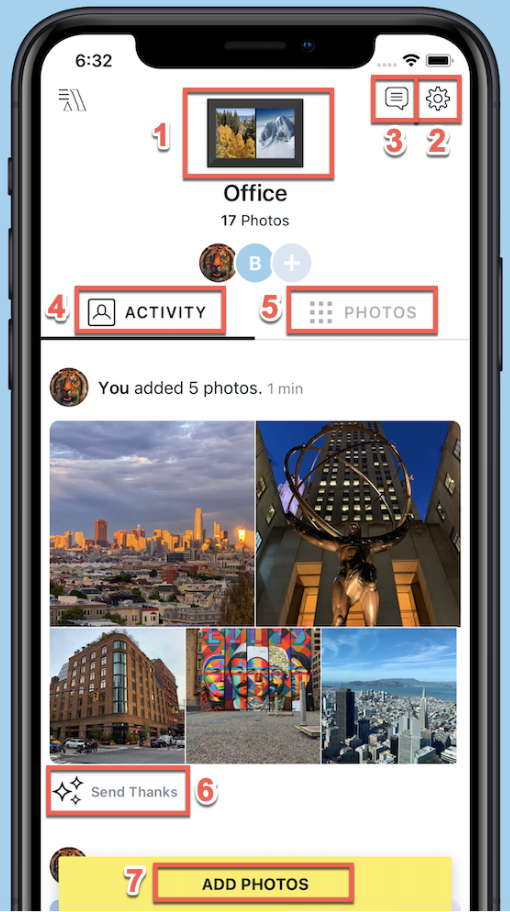 1) Remote Control
Any frame member can tap on the frame picture to remotely see - and
change - which photo or video is currently displayed on the frame.

2) Frame Settings
Change the frame's settings (see next section for more info)

3) Notifications
A list of all activities across all of the frames that you contribute
to. This includes added photos, members that joined, and much more.

4) Activity Tab
Shows the activity in this particular frame. You can see when photos or videos
get added, who added them, and who liked them. Also, the place to transfer upload updates from one frame to another. Note: Photos cannot be edited in this tab. Select "Photos" (5) to edit them.

5) Photos
Lists all photos, videos, and albums that have been added to this frame. Tap on a
photo once to edit it (zoom/adjust/remove) and twice to share or save it.

6) Send Thanks / Share a Reaction
Tap on this icon to share one of 6 reactions with the contributor who uploaded it.

7) Add Photos / Videos
Add more photos, videos, or albums to your frame.
Related articles:
FRAME SETTINGS
Any invited frame member can access this app section to change an individual frame's settings. This is particularly useful if you want to remotely control an elderly relative's frame.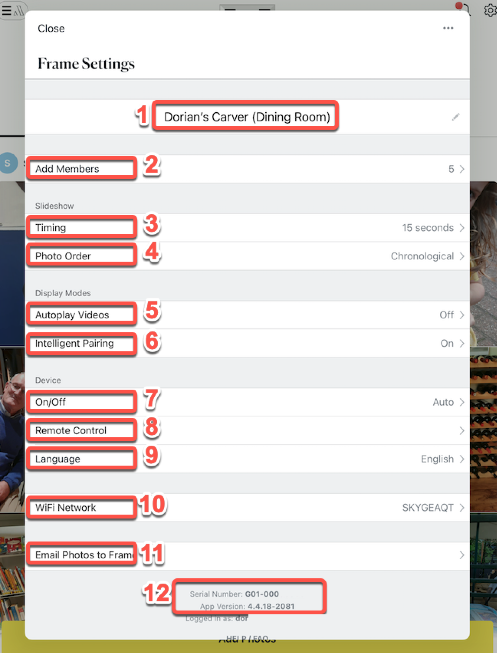 1) Frame Name
Aura is all about personalized experiences and a frame name is part of it!

2) Add Members
Invite family and friends to contribute photos to your frame. Type in the email or phone number and press "Send" to send them an invite. This section also allows you to remove members from this frame.

3) Timing
You can change how quickly the frame rotates through each photo

4) Photo Order
Change whether your photos and videos will be displayed in random or chronological order.


5) Autoplay Videos
Turn this feature on if you want your frame to support iOS Live Photos and uploaded videos. If you disable it, they will be shown as still images.

6) Photo Match (only for Carver/Buddy/Gallerie frames)
By default, these frames will intelligently pair portrait photos side by side.
Disable this feature if you only want to display one portrait photo at a time.

7) On/Off
Set a "schedule" for your frame by selecting your preferred times for the frame's display to turn on and off. Alternatively, select "Auto" for your
frame to use brightness levels to come on in the morning and turn off in the evening.

8) Remote Control
Any frame member can tap on the framed picture to remotely see - and change - which photo is currently displayed on the frame.


9) Language
Choose the language of your frame (German/French/English). Note: if you want to change the app language, you need to change your device's overall language settings.

10) WiFi Network
Tap on the WiFi network name to change or update it at the WiFi location.
A list of available networks will then appear in the app. Tap the correct one and enter the password. Don't forget to tap 'Save' when complete.


11) Email Photos to Frame
Tap to find a personal frame email address that invited frame contributors can use to email photos (not videos) directly to this frame.

12) Serial Number / Software
Provide this information to Aura Customer Care if you ever need help.
Related articles:
PHOTO / VIDEO SELECTOR
Once you have clicked on "Add Photos", the following app section will allow you to add photos to your frame - or multiple frames - either by individually uploading them or by uploading entire albums.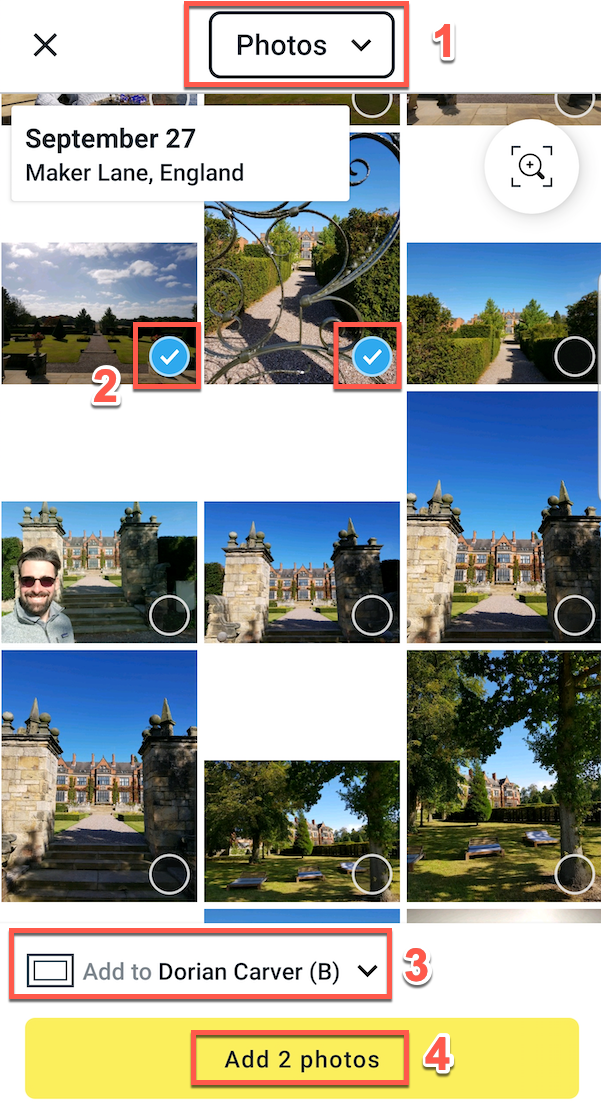 1) Photos Source: Camera Roll (iOS)/ Photos (Android)
By default, the app will use your smart device's Camera Roll to show all photos or videos that you can upload to the frame. Tap on this button to change the source to individual albums or - if enabled - to your Google Photos account.

2) Select Photos / Videos
Tap on the photo(s) or video(s) that you want to upload. Your confirmation will
be confirmed with a check mark. Note: please read the below "Best Upload Practice" FAQ.

3) Select Frame(s)
Tap on the frame selector to choose one - or multiple - frame(s) that you want to upload the selected photos or videos.

4) Add Photos / Videos
The yellow button will show how many photos or videos you have selected. Once you tap on it, those photos or videos will be sent to the selected frame(s). Note: Uploads can take a while.
Note: Aura also offers a web uploader so you can upload photos (not videos) from a computer
Related articles:
PHOTO EDITOR
From within the PHOTOS section (not Activity tab) you can tap on any photo ONCE to open the editor mode and TWICE to download or share it.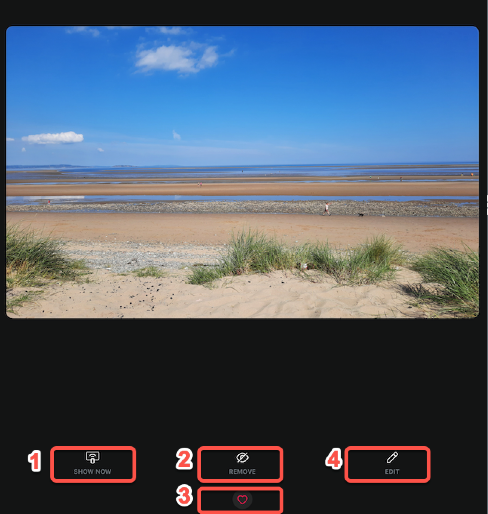 ONE tap on the photo:

1) Show Now
This feature allows you to immediately display this photo on the frame.

2) Remove
Use this feature to remove a photo from your frame. Note: once it is
removed, it cannot be restored but needs to be uploaded again.

3) Heart
Tapping the heart will send the respective photo contributor a notification
that their photo was appreciated.

4) Edit
Although the Aura app automatically optimizes any uploaded photo for
the frame, you can use this feature to manually zoom or crop individual
photos. Don't forget to save the changes!

TWO Taps on the photo:

5) Share / Save / Print
Tap this button to share a photo via a variety of services or to download
it to your device. Particularly handy if you want to print photos at home.
Related articles: